Kenya is now a very discernable fixture for all travel and wildlife lovers. People from all around the world visit Masai Mara – the star attraction of Kenya's wildlife offering. Other important destinations in Kenya  include Amboselli, Lake Naivasha, Lake Nakuru and the city of Mombasa, the eastern business hub of the country. It has beaten its neighbours , namely Tanzania and Uganda to become the safari destination for the world. Ever wondered why is it that Kenya has outshone its neighbors in becoming the center of wildlife safaris in Africa ? What is the Secret of Kenya's fame as a Travel Destination ?
Kenya shares  borders with Uganda and Tanzania, which forms the largest grasslands basin in the world for wildlife. While the Serengeti and Ngorongoro Parks of Tanzania, and the  Biwindi and Kibale National Parks of Uganda are equally famous, Kenya holds a lead in the annual numbers of visitors and travellers entering the country and the volume of business generated from its tourism industry.
What is the secret of Kenya's fame as a Travel Destination?
As described by
Sir Winston Churchill
  during the late 1930s, it was not Kenya , rather Uganda which was pointed out initially as being  the "
Hidden Gem of Africa
" . His words created interest among the British and many Europeans who started  visiting the country. But  ultimately  Kenya has managed to override both these countries as being a more attractive destination for the safari and animal lovers. Among many other reasons, one stellar reason is that Kenya holds a stable government , in fact one of the most stable governments in Africa. English is well spoken throughout the various tourist destinations of the country and a large number of  people are attached to the travel industry , which is  a pre-requisite.
Kenya also offers to its visitors a better infrastructure as far as roads, connectivity,  security , hotels, food and  entertainment is concerned. I am not saying the roads are great, neither world class, but they allow decent motoring possibility and you can reach Nairobi to Mara in about 5 hours which is good going by African standards.
The other important reason which lead toKenya's rise to popularity is two tales of love and compassion, tales which surpassed boundaries and appealed to people from all backgrounds. Tales told by two expatriates , of their love and care , and the role of local Kenyans in their lives. Ultimately these two tales were converted into Hollywood blockbuster movies, going ahead to win a number of Oscars and many prizes and accolades. The movies were also later shot in Kenya and the world came to see the visions of a wild grassland , teeming with wild animals and patrolled by red-cloth draped, spear wielding Masais.
It is not only that the  locales used while shooting these two multi-Oscar winning movies happened to be Kenya,  but that the stories were inherently Kenyan biographies of its wildlife, nature, and its people.
 Born free and Joy Adamson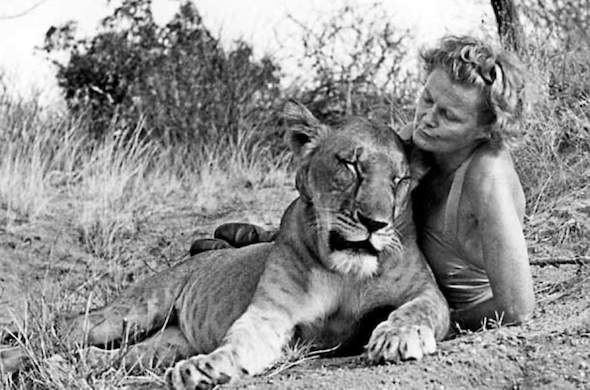 Early twentieth century artist and environmental conservationist Joy Adamson came to live in Kenya with her husband George Adamson. It was here that she found Elsa, a lion cub and brought her home when Elsa's mother was accidentally killed by her husband George near their Lake Naivasha estate. She published her experience as a book titled "Born Free"  which became famous and established her as an author. She later followed it up with "Living Free" another book on the later years of her life with Elsa. Her living quarters and the estate have now been converted into a WWF conservation center. We had the privilege to stay  at Elsamere Camp, Lake Naivasha during our Budget travel to Kenya in November 2011. A section of the centre also houses a few isolated units which serve as a resort and contributes to the foundation.
Her story has been translated into 32 languages. In the later years she came up with a sequeal and titled it "Living Free". Both these books have  later been made into Hollywood movies.
More details on Elsa and Joy Adamson are available here :
****
Karen Blixen and Out of Africa
The other book written on Kenya which elevated this country to a prominent spot in international travel fixtures is the autobiography by Karen Blixen,  an established Danish author who also moved to Kenya in the early twentieth century and established a coffee plantation with her husband. She later met her the love her life and this forms the crux of the book 'Out of Africa'. This book has also been made into a movie starring Meryl Streep and Robert Redford and went on to bag a number of Oscars. A whole locality named Karen and specially a street is dedicated to the author, called Karen Blixen Avenue, in upmarket Nairobi and her residential villa has been converted into a museum. This is now a major tourist attraction of the city. The Movie "Out of Africa" was filmed at Crescent Island , which lies to the north-east corner of lake Naivasha.
More details about Karen Blixen here
These two books and their conversion into big budget successful movies  Born Free and Out of Africa have significant contributions in promoting Tourism in Kenya. The present generations have also paid respect to the authors and their homes are now tourist attractions for the world.